As I've mentioned, my son recommended this book to me.  I don't know about you, but sometimes it's nice to read something different for a change; something you wouldn't necessarily pick up on your own.  But, I really had no choice.  My son was so excited about this book and wanted to share the experience with me so much that I just had to pick it up.  And I'm not sorry I did.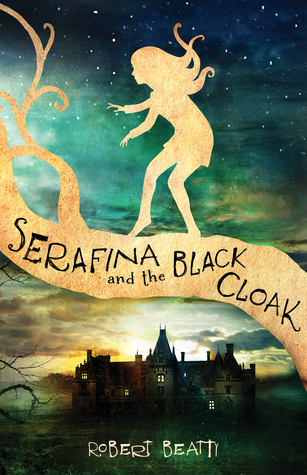 Serafina is a lovable character and I can't get enough of her untamable spirit.  I'm only about half way through, but I'm really enjoying the story.
When I looked up Serafina and the Black Cloak by Robert Beatty on Goodreads, I noticed ("Serafina #1") next to the title.  Do you know what that mean?  That means it isn't the only Serafina story!  I'm wondering if my son knows that?  I'm thinking I need to tell him, but that just means I will need to make a trip to the bookstore.  *Sigh
My quote is from Page 71.  I hope you enjoy!
"As soon as they were gone, she climbed down and checked the area to the right of the fireplace to make sure she'd be able to find the concealed door if she ever needed it.  A concealed door could be a very useful thing to a girl of her particular occupation."
---
Teaser Tuesday is hosted by Jenn at Books and a Beat.
Anyone can play along! Just do the following:
• Grab your current read
• Open to a random page
• Share two (2) "teaser" sentences from somewhere on that page
• BE CAREFUL NOT TO INCLUDE SPOILERS! (make sure that what you share doesn't give too much away! You don't want to ruin the book for others!)
• Share the title & author, too, so that other TT participants can add the book to their TBR Lists if they like your teasers!