Have you ever sifted through your Goodreads list?  I didn't start doing it until I was determined to follow Teaser Tuesday every week.  And as much as I want to read way more than I am right now, I'm enjoying the trip down memory lane and sifting through the amazing books I've had the opportunity to read.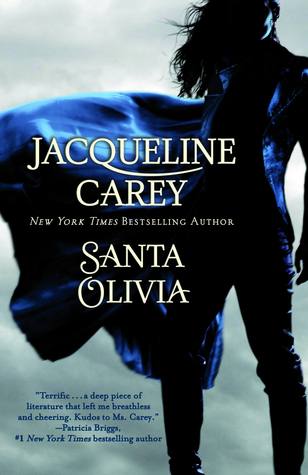 Santa Olivia by Jacqueline Carey is no exception.  I love the world Carey created and the story she told of a somewhat super hero.  Loup Garron is one of those characters you fall in love with and have a hard time letting go of when the book ends.  It was a little slow in places, but overall, it was a fantastic read and I highly recommend it.
For my Teaser, I had to turn to Goodreads and I'm using one of only two quotes posted there – the other one was only one very short sentence.  I should apologize, but I'm not going to because it really paints a picture of the book and what you'll find in it.  I hope you enjoy!
"Hear, hear.' Sister Martha hoisted her water glass. 'Let the rigid stick of self-righteousness be dislodged from her very uptight ass.'
Father Ramon coughed.
'A-fucking-men,' Loup supplied helpfully."
― Jacqueline Carey, Santa Olivia
---
Teaser Tuesday is hosted by Jenn at Books and a Beat.
Anyone can play along! Just do the following:
• Grab your current read
• Open to a random page
• Share two (2) "teaser" sentences from somewhere on that page
• BE CAREFUL NOT TO INCLUDE SPOILERS! (make sure that what you share doesn't give too much away! You don't want to ruin the book for others!)
• Share the title & author, too, so that other TT participants can add the book to their TBR Lists if they like your teasers!