I finally decided to try a different book since I was having such a hard time finishing the one I was working on.  I'm not sure this one is a whole lot better; I'm not much of a creature fan and I happened to pick up a book by Dean Koontz that is about creatures.  I haven't made it far enough to find out if they are aliens or some sort of other thing, but I've made it far enough to be pretty grossed out.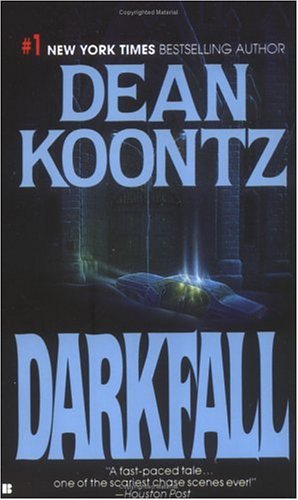 That doesn't stop me from wanting to keep reading, though.  I love the way Dean Koontz writes and Darkfall is no exception, even though he is pretty descriptive about scary creatures in walls and under beds.
My quote comes from page 10, which tells you I haven't made it all that far, but I am making progress.  A little progress is better than lugging a book around I never actually pick up and read, though.
I hope you enjoy the teaser!
"Wasn't she the woman of the house now, and hadn't she been the woman of the house for more than a year and a half, ever since her mother died?  After about ten minutes, she managed to shame herself into switching off the lamp and lying down."
---
Teaser Tuesday is hosted by Jenn at Books and a Beat.
Anyone can play along! Just do the following:
• Grab your current read
• Open to a random page
• Share two (2) "teaser" sentences from somewhere on that page
• BE CAREFUL NOT TO INCLUDE SPOILERS! (make sure that what you share doesn't give too much away! You don't want to ruin the book for others!)
• Share the title & author, too, so that other TT participants can add the book to their TBR Lists if they like your teasers!