As I mentioned last week, or maybe even more times than just that once, I haven't been reading much lately, so I don't have a current read to open up and grab a quote from.  I love reading! I really do.  So, admitting I'm not reading a lot is a really hard thing for me to do.  *Sigh*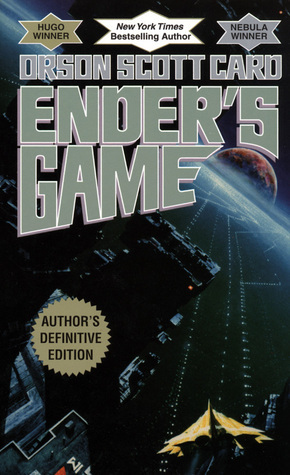 What I have instead is one of my absolute favorite books of all time.  Ender's Game by Orson Scott Card was the very first science fiction story I ever read and it had a lasting impact on me.  It's a sad story, but I think it spoke to parts of me that I didn't let many people touch at the time.
I still have a desire to read it again, even though I've read it probably four times.  I went and saw the movie when it came out, but as much as I thought a movie would be really cool, there was so much cut out of it that it didn't have the same meaning for me.
The quote I ended up choosing from Goodreads probably speaks the most to why I like this book so much.  I don't know why adults look at a child and see "just a child".  They are, but they are also people; human beings just trying to find their way in this crazy world.  We all need guidance and help, but no one needs to be treated like they are "less" simply because they are "young".
I hope you enjoy the quote!
"Because never in my entire childhood did I feel like a child. I felt like a person all along―the same person that I am today."
― Orson Scott Card
---
Teaser Tuesday is hosted by Jenn at Books and a Beat.
Anyone can play along! Just do the following:
• Grab your current read
• Open to a random page
• Share two (2) "teaser" sentences from somewhere on that page
• BE CAREFUL NOT TO INCLUDE SPOILERS! (make sure that what you share doesn't give too much away! You don't want to ruin the book for others!)
• Share the title & author, too, so that other TT participants can add the book to their TBR Lists if they like your teasers!